A Brief Story About The Company
RKL Fabrication is a prominent organization in the field of furniture manufacturing under the brand name 'Renbow'. They are renowned for having high-quality, durable furniture and modulation. Through Renbow, they aim to revamp the surroundings with reliable, elegant, and qualitative furniture. Equipped with state-of-the-art machines from Germany, Italy, and Spain, RKL maneuvers every aspect of furniture production right from coming up with innovative designs, and concepts to the finished product
Goal
To have a fully automated system that could align
numerous business operations to improve workflow
and boost scalability of the business
The Mission
Integration of all departments along with the
website for better functioning and customer
experience.
Escalate the manufacturing process by implementing Process Quality Check (IPQC) and
advanced tracking methods for reliable data.
Consolidation of the entire HR process to
facilitate better management of activities right
from recruitment to retirement.
Jan-2020
Blue print prepared.After understanding the entire business process we prepare Blue Print and mapped all the process
Mar-2020
All the opening balances and training started. 80% of implementation was proper training to existing man power.
Jun-2020
Went live with Finance, Inventory and Production.
Integration
Disassociated systems led to uncertainty while running the business. RKL Fabrications needed coordination between their numerous departments so as to ensure clear communication and prevent further confusion.
Tracking bills
In order to ensure their products matched Indian as well as International standards, RKL fabrications needed In-Process Quality Checks (IPQC) to be implemented. Furthermore, tracking the routine-wise status of their products in the manufacturing process was a neccessity.
Production Process
Onboarding flows, sales, and merchant payouts are hard to keep track of. For ensuring a smooth flow of payments in and out, RKL fabrications needed a cloud-based ERP solution for real-time data that could be accessed anytime, anywhere
HR management
Recruiting and managing the workforce along with maintaining precise data with respect to attendance, performance, shifts, etc was strenuous. Thus RKL Fabrications wished to have an integrated platform to help them manage the HR process right from onboarding to retiremnt.
As their company grew bigger, it became quite challenging for RKL Fabrications to keep tabs on everything which led to mismanagement of the material and
inaccurate forecasts. There was a communication gap among the various departments and stores, leading to wrong inputs. Restructuring their processes and
systems into an integrated one was the bigger challenge.
Streamline the purchase process
Production process tracking
Miss Match of Stocks
Miss match in delivered items
Customer issue tracking
Was manual approval methods
Everything was in excel
They felt the need for an ERP solution that could provide them with better data insights, easier consolidations, correlated business processes, and financial statement management along with management of HR activities.
Cloud based - easy access anytime anywhere

With the cloud-based interface of ACCU360, RKL fabrications could now access all the necessary information from at any given point

Performs quality checks on every step of the manufacturing process

ACCu360 makes it easier to keep an eye on the entire manufacturing process to make sure the final products live up to the set standards.

Accurate data of stock at every branch

Availability of accurate data saved time and cost, now the company could plan and make better decisions based on the real time insights.

A fully automated platform for HR activities led to better management of data like performance analysis, payroll, shifts etc of employees on all levels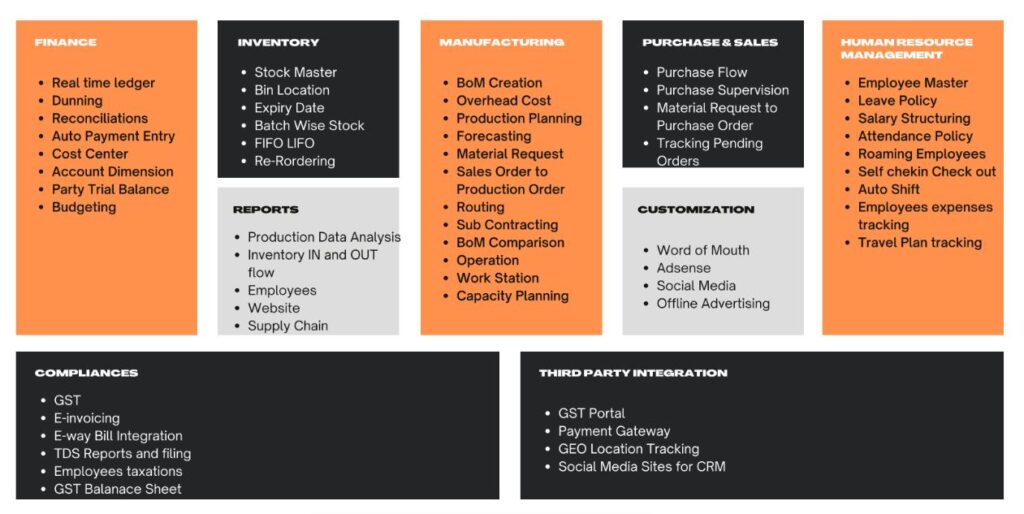 ACCU360 facilitated complete automation of inventory
management thus ensuring the resources are used to
their fullest. Detailed, error-free reports made it possible
to plan resources, forecast sales, and pinpoint the areas
they needed to improve. RKL fabrications experienced a
massive increase in the efficiency and functioning of
their business.
Equipped with ACCU360, RKL fabrications was able to
reduce its operating time and experienced growth in
business due to the strategic consolidation of numerous
processes. The entire billing cycle is completed in mere
minutes with accuracy, thus saving time and effort. They
were able to focus more on expanding their business
now that they had expert control over their business.
Standarized production process with status tracking

Improved manufacturing process with accurate forecasting and implementation of In-Process Quality Check (IPQC) for keeping a check on quality on every step of the way

Enhanced management of manpower

ACCU360 allows for fully automated HR management leading to improved transparency in recruitment and employee assessments as well as smooth regulation of payrolls etc

Minimized maintenance cost due to having a single, centrally managed system. Reduction in time and efforts spent on doing trivial tasks

Reliable data, Better planning

Better goal and objective tracking with precise reporting for the higher management team. Real-time reporting availability helped in the well-informed decision-making process.